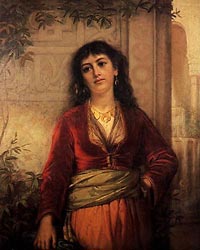 About Ten Dreams
The Ten Dreams web site was conceived in the early days of the Internet, an exciting period when many talented writers and designers contributed freely in establishing an Internet community. Developed initially as a research tool for artists, Ten Dreams has remained faithful to its objective to provide educational resources in the Fine Arts.
Ten Dreams is a non profit entity. We have and will not accept any compensation for any service we provide. We do not solicit donations or employ revenues from outside advertising.
While we strive to provide accurate samples of artwork, no current technology available through the Internet can provide the detail that is available in high quality publications. And of course, there is nothing like experiencing an original work of art. We encourage you above all to visit your local museums and galleries.
The essays about Magic Realism, Symbolism and Metarealism all have been contributed by Mr. Georg Kremer of Monograffi. He can be contacted at editor@monograffi.com.
We hope that you are enjoying your visit. Please feel free to send us your comments at the following address:
Email: dreams@tendreams.org.